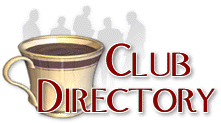 This directory lists over 2300 clubs related to Antiques and Collectibles
Click here to register your club -- Its FREE!
Find a club by name, starting with the letter:
A B C D E F G H I J K L M N O P Q R S T U V W X Y Z Other


Hallicrafters Collectors International
Publications: discussion group

Contact: Hallicrafters Collectors International
Website

This site is dedicated to all fans of vintage Hallicrafters radios!
This is the home of all things HALLICRAFTERS -- equipment information, on-the-air HF Nets, email reflector, nostalgia, shortwave listening (which is most enjoyable when using a classic Hallicrafters receiver), and other features.
Dedicated to fans of vintage Hallicrafters radios; Web site features information about amateur radio and shortwave listening; also extensive archive of over a thousand photos of Hallicrafters equipment from 1930s through 1970s.