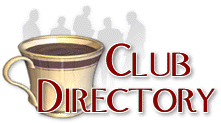 This directory lists over 2300 clubs related to Antiques and Collectibles
Click here to register your club -- Its FREE!
Find a club by name, starting with the letter:
A B C D E F G H I J K L M N O P Q R S T U V W X Y Z Other


Langley Mill Pottery Collectors' Society
Contact: Jenifer Giblin, Sec.
64 Hands Rd.
Heanor, De DE75 7HB
Phone: 01773 716847
Website

A society for collectors of all ware made at the Langley Mill Pottery from 1865 to 1982; monthly meetings held in Heanor, Derbyshire, U.K.