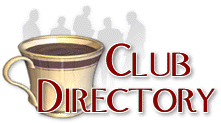 This directory lists over 2300 clubs related to Antiques and Collectibles
Click here to register your club -- Its FREE!
Find a club by name, starting with the letter:
A B C D E F G H I J K L M N O P Q R S T U V W X Y Z Other


Old Appliance Club, The
Publications: Magazine: Old Road Home, The
Contact: Jack Santoro
P.O. Box 65
Ventura, CA 93002
Phone: 805-643-3532
Fax: 805-643-3532
Website

Hello

Old Appliance Lovers!

If you love vintage stoves, refrigerators, washers, dryers, toasters, mixers or for that matter, any classic household appliance,

we would like to

invite you to join

The Old Appliance Club

the #1 Clearinghouse in the World for all

old stove and appliance interests.

The Old Appliance Club

"A large, active, friendly membership" featuring "fact-filled issues of The Old Road Home" newsletter –

The only vintage American appliance information clearinghouse in the world; parts, service, information, sources, referrals, buy/sell classifieds, historical articles on vintage stoves, refrigerators and appliances.