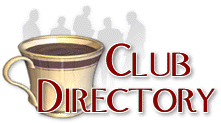 This directory lists over 2300 clubs related to Antiques and Collectibles
Click here to register your club -- Its FREE!
Find a club by name, starting with the letter:
A B C D E F G H I J K L M N O P Q R S T U V W X Y Z Other


Keystone Record Collectors
Publications: Newsletter: Key-Notes
Contact: Erna Reinhart, Sec.
P.O. Box 1516
Lancaster, PA 17608
Phone: 717-898-1246
Website

Club is dedicated to the promotion and advancement of the hobby of music collecting with the express purpose of providing a way for music collectors to obtain knowledge about their hobby and to increase their personal collections.