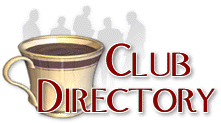 This directory lists over 2300 clubs related to Antiques and Collectibles
Click here to register your club -- Its FREE!
Find a club by name, starting with the letter:
A B C D E F G H I J K L M N O P Q R S T U V W X Y Z Other


Pacific Northwest Numismatic Association
Contact: Joseph E. Boling
P.O. Box 4718
Federal Way, WA 98063-4718
Phone: 253-839-5199
Fax: 253-839-5185
Website

The Pacific Northwest Numismatic Association (PNNA) is a regional organization for numismatists — persons who study, collect, or deal with coins, paper money, tokens and medals. The PNNA is proud to present pnna.org, our home on the World Wide Web! This site is updated frequently to bring you the most accurate and up-to-date information available about numismatics in the Pacific Northwest. PNNA members are also available to help answer your questions about numismatics. Please don't hesitate to ask us a question or to contribute information for possible use on this site!