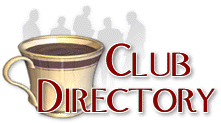 This directory lists over 2300 clubs related to Antiques and Collectibles
Click here to register your club -- Its FREE!
Find a club by name, starting with the letter:
A B C D E F G H I J K L M N O P Q R S T U V W X Y Z Other


Hamm's Club
Publications: Newsletter: Bruins Gazette
Contact: Julie Wagner
1330 81st Ave. NE
Minneapolis, MN 55432
Phone: 763-252-0114
Fax: 763-252-7598
Website

We welcome all those interested in the topics of Hammís Beer and its glorious hey day and advertising. Whether you have a small but growing interest in Hammís and collection Hammorabilia or whether you are a long time collector we welcome you. We also welcome folks who are interested in Hammís history from the early days up to the 50ís, 60ís and 70ís. Many of our members are new and old collectors and those with nothing more than admiration for the brew.

The Hammís Club is a very unique brewery based club in that we only do Hammís. Some dealers at our two annual shows sell items other than Hammís, however you will NEVER find such a concentration of good old Hammís signs and advertising at one place. Those who attend for the first time are amazed. Itís the place to look, meet people and buy if you're interested. Also itís the place to buy great Hammís items for the best prices hands down. Get in the loop so you know about our shows by becoming a member. If you canít make to our shows join simply to be networked with other members and to get the great information in the Hammís Club newsletters, the Bruins Gazette. As Hammís Club member Steve Miner puts it, ďThe Gazettes alone are worth the cost of membership.Ē

Again welcome to our site. Check us out. To become a member print out the membership form on this site or call toll free to 1-800-553-2092. If you call in the evening leave a message with your name and phone number. You can sign up by phone and pay by check or credit card. If you interested in a membership simple ask and weíll send you one of our recent Gazettes to read to get taste for what weíre about.