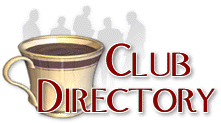 This directory lists over 2300 clubs related to Antiques and Collectibles
Click here to register your club -- Its FREE!
Find a club by name, starting with the letter:
A B C D E F G H I J K L M N O P Q R S T U V W X Y Z Other


Gay & Lesbian History on Stamps Unit of the American Topical Association
Publications: Newsletter: Lambda Philatelic Journal
Contact: Joe Petronie
P.O. Box 190842
Dallas, TX 75219-0842
Website

The objectives of GLHSC are to promote an interest in the collection, study and dissemination of knowledge of worldwide philatelic material that depicts:

* Notable men and women and their contributions to society for whom historical evidence exists of homosexual or bisexual orientation,

* Mythology, historical events and ideas significant in the history of gay culture,

* Flora and fauna scientifically proven to having prominent homosexual behavior, and

* Even though emphasis is placed on the above aspects of stamp collecting, GLHSC strongly encourages other philatelic endeavors.