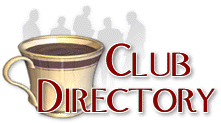 This directory lists over 2300 clubs related to Antiques and Collectibles
Click here to register your club -- Its FREE!
Find a club by name, starting with the letter:
A B C D E F G H I J K L M N O P Q R S T U V W X Y Z Other


Indian Arts & Crafts Association
Publications: Newsletter: IACA Newsletter
Contact: Debbie Duffy
4010 Carlisle NE, Ste. C
Albuquerque, NM 87107
Phone: 505-265-9149
Fax: 505-265-8251
Website

Purpose is to collect, promote, preserve, protect and enhance the understanding of authentic American Indian crafts and arts.