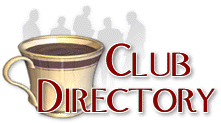 This directory lists over 2300 clubs related to Antiques and Collectibles
Click here to register your club -- Its FREE!
Find a club by name, starting with the letter:
A B C D E F G H I J K L M N O P Q R S T U V W X Y Z Other


Ice Screamers, The
Publications: Newsletter: The Ice Screamer
Contact: Judith Snyder
P.O. Box 465
Warrington, PA 18976-0465
Phone: 215-343-2676
Website

The Ice Screamers is a collectors club founded in 1982. Our members specialize in collecting ice cream parlor and soda fountain memorabilia. The variety of items we collect is amazing: from scoops to freezers, glassware to moulds, ice cream cartons to penny licks, and much more. Any item with an ice cream or soda fountain - related theme is a potential collectible!

The first Ice Screamer newsletter in 1982 was mailed to 50 charter members. Since then, The Ice Screamers organization has grown to 450+ families in the United States and several countries around the world. Many of our members are recognized experts in ice cream collectibles, and a growing number own or operate vintage ice cream parlors and soda fountains with the best ice cream you'll ever taste!