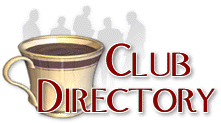 This directory lists over 2300 clubs related to Antiques and Collectibles
Click here to register your club -- Its FREE!
Find a club by name, starting with the letter:
A B C D E F G H I J K L M N O P Q R S T U V W X Y Z Other


We Love Lucy/The International Lucille Ball Fan Club
Publications: Magazine: Star Notes
Contact: Thomas J. Watson
P.O. Box 56234
Sherman Oaks, CA 91413-1234
Phone: 818-981-0752
Fax: 818-981-0757
Website

Quarterly magazine focusing on collectibles pertaining to the 'I Love Lucy' TV show and to Lucille Ball and other characters.