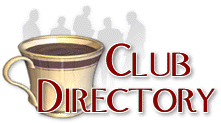 This directory lists over 2300 clubs related to Antiques and Collectibles
Click here to register your club -- Its FREE!
Find a club by name, starting with the letter:
A B C D E F G H I J K L M N O P Q R S T U V W X Y Z Other


F-4 Phantom II Society
Publications: Magazine: Smoke Trails
Contact: Matthew Critchley
3053 Rancho Vista Blvd., Suite H-102,
Palmdale, CA 93551 US
Website

The Society began in 1984 as the brain-child of Paul Collins of Erlanger, Kentucky. In 1988 he relinquished the society to Bill Spidle of Plano, Texas. In 1992, the Society's leadership changed hands again and was assumed by Jan Jacobs of San Diego, California, a retired USN Commander and F-4 RIO. In March 2002 the leadership of the Society was passed on for a brief period to Jack Callaway of El Paso, Texas.

In October 2002, Lt. Col. Bob Kay took over the reigns of the society from Jack. Lt.Col Kay, USAF(Ret) is currently working with BAE Systems at Mojave, Calif., as QF-4 FSAT Program Manager and Test Pilot. He has flown F-4D and E models, as well as the AT-38B, QF-106A/B and the F-117A.