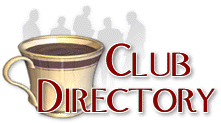 This directory lists over 2300 clubs related to Antiques and Collectibles
Click here to register your club -- Its FREE!
Find a club by name, starting with the letter:
A B C D E F G H I J K L M N O P Q R S T U V W X Y Z Other


California Historical Radio Society, North Valley Chapter
Contact: Steve Kushman
P.O. Box 31659
San Francisco, CA 94131 US
Website

The California Historical Radio Society (CHRS) is a non-profit corporation chartered in the State of California. CHRS was formed in 1974 to promote the restoration and preservation of early radio and broadcasting. Our goal is to provide the opportunity to exchange ideas and information on the history of radio, particularly in the West, with emphasis in collecting, literature, programs, and the restoration and display of early equipment.