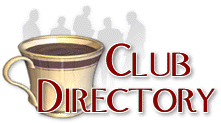 This directory lists over 2300 clubs related to Antiques and Collectibles
Click here to register your club -- Its FREE!
Find a club by name, starting with the letter:
A B C D E F G H I J K L M N O P Q R S T U V W X Y Z Other


American Association of Philatelic Exhibitors
Publications: Journal: Philatelic Exhibitor, The
Contact: Tim Bartshe, Sec.
13955 W. 30th Ave.
Golden, CO 80401
Website

Founded in 1986, the American Association of Philatelic Exhibitors is a worldwide organization of stamp collectors who exhibit their collections competitively and work together for the betterment of philatelic exhibiting and judging standards and practices. AAPE membership is open to all philatelists who love, and participate in, the world of stamp shows.