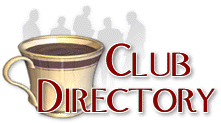 This directory lists over 2300 clubs related to Antiques and Collectibles
Click here to register your club -- Its FREE!
Find a club by name, starting with the letter:
A B C D E F G H I J K L M N O P Q R S T U V W X Y Z Other


Eddie Cantor Appreciation Society
Publications: Newsletter: ECAS Newsletter
Contact: Eddie Cantor Appreciation Society
P.O. Box 4521
Valley Village, CA 91617 US
Website

The Eddie Cantor Appreciation Society was established in 1994 by Sheila Riddle with the blessing of the Cantor family. It was her aim to bring together all the Cantor fans from around the world--and that she has done. The society has grown tremendously through her informative newsletter. All members receive the newsletter, photograph and biographical information on old Banjo Eyes. It is a great place to exchange information, ideas and for trading collectables.