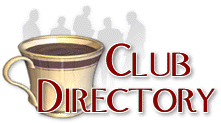 This directory lists over 2300 clubs related to Antiques and Collectibles
Click here to register your club -- Its FREE!
Find a club by name, starting with the letter:
A B C D E F G H I J K L M N O P Q R S T U V W X Y Z Other


Alfa Romeo Owners Club - USA
Publications: Magazine: Alfa Owner
Contact: Chip Denyko, VP
P.O. Box 12340
Kansas City, MO 64116-0340
Phone: 877-399-2762
Website

National organization with over 40 chapters; membership open to all Alfa Romeo enthusiasts; chapters hold regular meetings, publish newsletters, sponsor technical, competitive and social activities.