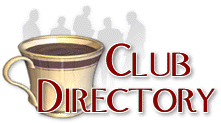 This directory lists over 2300 clubs related to Antiques and Collectibles
Click here to register your club -- Its FREE!
Find a club by name, starting with the letter:
A B C D E F G H I J K L M N O P Q R S T U V W X Y Z Other


Fairlane Club of America
Publications: Magazine: Fairlaner
Contact: Bob Mannel
340 Clicktown Rd.
Church Hill, TN 37642-6622
Phone: 423-245-6678
Fax: 423-245-2456
Website

For owners of '62 through '76 Fairlanes, Torinos, and Mercury equivalents; impressive 48-page with color 'Fairlaner' is published six times per year: restoration tips, how-tos, ads, color photos.