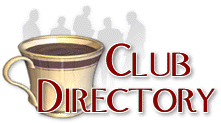 This directory lists over 2300 clubs related to Antiques and Collectibles
Click here to register your club -- Its FREE!
Find a club by name, starting with the letter:
A B C D E F G H I J K L M N O P Q R S T U V W X Y Z Other


Lighter-Than-Air Society
Publications: Newsletter: Buoyant Flight

Contact: Lighter-Than-Air Society
Website

The Lighter-Than-Air Society is a not-for-profit organization whose members are devoted to the study of the history, science, and techniques of all forms of buoyant flight. Individually and as a group, members believe in the advantages that lighter-than-air vehicles (balloons and airships) have in many transportation, promotional, sport, scientific and defense applications.

The L-T-A Society began in 1952 as a employee activity of the Goodyear firm. Over the years, membership grew beyond the company, and the L-T-A society incorporated as a separate entity in 1975. Today, with membership open to the public, nearly 1000 members of all ages share their common interest in lighter-than-air flight. Membership in the L-T-A Society is not only educational - it's fun! To participate, visit our Membership Application page.