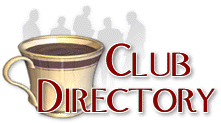 This directory lists over 2300 clubs related to Antiques and Collectibles
Click here to register your club -- Its FREE!
Find a club by name, starting with the letter:
A B C D E F G H I J K L M N O P Q R S T U V W X Y Z Other


California Federation of Merological Societies
Contact: Dick Pankey
Website

The California Federation of Mineralogical Societies (CFMS) was organized in 1936 to bring about a closer association of Clubs and Societies devoted to the study of Earth Sciences and the practice of Lapidary Arts and Crafts in the Western part of the United States.

The CFMS includes approximately 137 clubs and societies mostly in California. There are a few clubs outside this area in Arizona and Nevada due to historical affiliation. The CFMS is a member of the American Federation of Mineralogical Societies (AFMS).