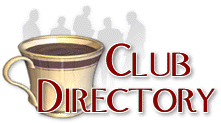 This directory lists over 2300 clubs related to Antiques and Collectibles
Click here to register your club -- Its FREE!
Find a club by name, starting with the letter:
A B C D E F G H I J K L M N O P Q R S T U V W X Y Z Other


Eastern Federation of Merological Societies
Contact: Dan Imel
Website

The Eastern Federation of Mineralogical and Lapidary Societies, Inc. was organized in 1950 to bring about a closer association of Clubs and Societies devoted to the study of the Earth Sciences and the practice of the Lapidary Arts and related crafts in the eastern portion of the United States. Beginning with three "founding" clubs and seven "charter" clubs, the EFMLS has now grown to approximately 150 affiliated clubs and societies with a combined membership of well over 10,000 individuals. The EFMLS is a member of the American Federation of Mineralogical Societies, the umbrella association for the seven regional federations in the United States. It joined the AFMS in 1952.