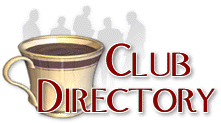 This directory lists over 2300 clubs related to Antiques and Collectibles
Click here to register your club -- Its FREE!
Find a club by name, starting with the letter:
A B C D E F G H I J K L M N O P Q R S T U V W X Y Z Other


Hajji Baba Club
Contact: Hajji Baba Club
Website

This site is a venue for sharing information among members of the world's oldest club for rug collectors, and with visitors who are interested in things related to oriental rugs. We hope you find it useful, and that you will look in often. The hypertext links at the left will take you to the various sections of the site. The latest Newsletter (July, 2006) has been added.

Greenwich magazine's November 2005 issue ran a feature article on some of the Connecticut members of the Club (Mae Festa, Posie Benedict, Madeleine Hart and Vinay Pande, in particular). You can read it here (you'll need Adobe Acrobat Reader, a free download from the Adobe website). Collector's Choice is a series of pieces from members' collections, along with commentary. Members are invited to submit textiles for inclusion in this section. The Photo Galleries are pictures taken at recent Club meetings and events, and now include those of some of the recent speakers at Club meetings. The Photo Archive contains pictures of less recent club events. The other titles are, we hope, self-explanatory.