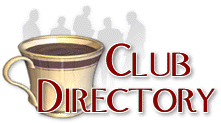 This directory lists over 2300 clubs related to Antiques and Collectibles
Click here to register your club -- Its FREE!
Find a club by name, starting with the letter:
A B C D E F G H I J K L M N O P Q R S T U V W X Y Z Other


Kansas City Marble Collectors Club
Contact: Craig Snider
5637 Noland Rd.
Shawnee, KS 66216
Website

Welcome to the KCMCC website! We are here to promote the ever expanding hobby of marble collecting. Whether you collect contemporary or antique marbles, you are invited to join the club. We love any and all types of marbles!



Our goal is to see that the history of marbles, past and present, is preserved for future generations. If you share a love for marble collecting, you've come to the right place!

Why should you join the KC Marble Collectors Club?

Meet new people and make new friends with marble collectors in the area.

Discounts to all shows and tables at any KC Marble Club sponsored event.

Buy, sell, trade and talk marbles at monthly meetings.

Get a better understanding of marble history.

Each membership gets a kcmarbleclub.com email address!

Learn to identify marbles and manufacturers.

Have a great time talking marbles and much more!