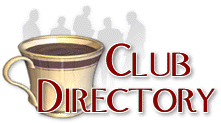 This directory lists over 2300 clubs related to Antiques and Collectibles
Click here to register your club -- Its FREE!
Find a club by name, starting with the letter:
A B C D E F G H I J K L M N O P Q R S T U V W X Y Z Other


Universal Ship Cancellation Society
Publications: Monthly journal, The Log
Contact: Steve Shay
747 Shard Ct
Fremont, CA 94539 US
Website

Founded in 1932, the U.S.C.S. is an international philatelic organization of over 1,300 members with an interest in postmarks and covers (envelopes) from all maritime services. This includes Navy ships of all countries, Marine Corps, Coast Guard, Navy bases, merchant ships with seapost and paquebot markings, related cachets, and other naval memorabilia. It is the only organization in the United States devoted to Navy and maritime covers, and is one of the oldest specialized postal history societies in the world. The Universal Ship Cancellation Society, Inc., (APS Affiliate #98), a non-profit, tax exempt corporation, (IRS 501(c)(3)) founded in 1932, promotes the study of the history of naval vessels, naval postal markings, and other postal documents involving the U.S. Navy and other maritime organizations of the world. Members of the society typically collect naval covers. Some members are primarily interested in cachets, some are primarily interested in postmarks, and some are interested in both. Some members conduct research in their areas of interest and publish their findings through the Society. Such reference material is then available for all collectors. Many members share an interest in naval covers as well as an interest in naval or maritime history. The Society's monthly journal, the Log, contains a blend of these two interests.