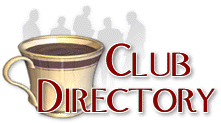 This directory lists over 2300 clubs related to Antiques and Collectibles
Click here to register your club -- Its FREE!
Find a club by name, starting with the letter:
A B C D E F G H I J K L M N O P Q R S T U V W X Y Z Other


Date Nail Collectors Assoc of Texas
Publications: Nailer News
Contact: Jerry D Waits
501 W Horton
Brenham, TX 77833 US
Phone: 409-830-1495
Website

Despite its name, the TDNCA is a North American organization which has served date nail collectors since 1970. The magazine "Nailer News" is issued four times a year, and it contains articles on nails, ads for nails, info on nail shows, etc. Issues are normally about 24-30 pages long.