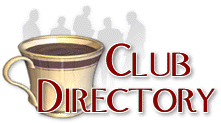 This directory lists over 2300 clubs related to Antiques and Collectibles
Click here to register your club -- Its FREE!
Find a club by name, starting with the letter:
A B C D E F G H I J K L M N O P Q R S T U V W X Y Z Other


Zippo Club Denmark
Focus: Zippo Lighters
Contact: Zippo Club Denmark
Website

Z-club is a collector-club founded in Februar 2003, as a result of wish
from collectors in Denmark and a super SWAP MEET arranged by Zippo Marketing
Scandinavia.
On that meeting Zippo-collectors in Denmark found out, that they shared the same
interest - collecting Zippo-lighters.

If you wish to become a member of Z-club ,please send an E-mail to
the President at formand@z-club.dk along with information about your name,
address, phone number and T-shirt size, please include some facts about your
collection and if you have special items that you are collecting.
Initial membership fee is 350 DKR for Scandinavian members and 400 DKR for
overseas members.

This includes a uniquely numbered Zippo lighter with your membership number,
a T-shirt and a membership ID card.
The annual membership fee will be 200 DKR for Scandinavian members and 300
for overseas members.

For this amount you will get the opportunity to participate in our club events and
have the possibility to buy the various Zippo merchandise that our Club is working
on getting produced.