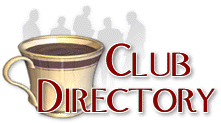 This directory lists over 2300 clubs related to Antiques and Collectibles
Click here to register your club -- Its FREE!
Find a club by name, starting with the letter:
A B C D E F G H I J K L M N O P Q R S T U V W X Y Z Other


Error World
Contact: Webmaster
Website

The Error World on-line coin club exists for the purpose of advancing the knowledge and the field of error coin collecting.

Error World is dedicated to the promotion, discussion and dissemination of facts and ideas about error coinage, both domestic and world-wide.

Error World exists as a vehicle to bring collectors of both foreign and domestic error coinage together in a professional and relaxed atmosphere where they can exchange information, display photos and engage in lively debate about error coinage.