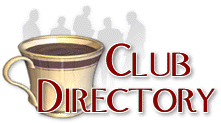 This directory lists over 2300 clubs related to Antiques and Collectibles
Click here to register your club -- Its FREE!
Find a club by name, starting with the letter:
A B C D E F G H I J K L M N O P Q R S T U V W X Y Z Other


Ohio Decoy Collectors & Carvers Association (ODDCA)
Contact: John Deeter
PO Box 499
Richfield, OH 44286 US
Website

The purpose of the Ohio Decoy Collectors and Carvers has been to promote the preservation of old decoys and creation of new decoys for the past thirty years. We recognize the artistry and craftsmanship of decoys and their uniqueness as American Folk Art. We also strive to convey an appreciation of our wetlands and its contribution to our environment.