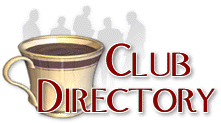 This directory lists over 2300 clubs related to Antiques and Collectibles
Click here to register your club -- Its FREE!
Find a club by name, starting with the letter:
A B C D E F G H I J K L M N O P Q R S T U V W X Y Z Other


Delmarva Antique Bottle Club
Contact: Rick Preston
Phone: (302) 934- 8922
Website

The club was founded in 1992 by Ferdinand (Ferd) Meyer, a member of the Baltimore Antique Bottle Club who on his travels to the beach area on a regular basis, found a need for such a club to serve the lower eastern shore area of Delaware, Maryland, and Virginia. The club has about 65 members and meets regularly on the third Friday of each month from 7:00 to 10:00pm at the Lewes Middle School, in Lewes, Delaware. The club is also a member of the FOHBC.