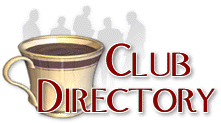 This directory lists over 2300 clubs related to Antiques and Collectibles
Click here to register your club -- Its FREE!
Find a club by name, starting with the letter:
A B C D E F G H I J K L M N O P Q R S T U V W X Y Z Other


Illinois - 20-30-40s Glass Society of Illinois
Publications: Club Newsletter
Contact: Bette Wittenberg or Valerie Vogt
P. O. Box 856
La Grange, IL 60525 US
Phone: 630-975-0916
Website

The members of our club are fun loving individuals whos common bond is to indulge in collecting and collect depression era glass. The Glass Societies purpose is to gain more knowledge of American-made glassware of the 1920s, 1930s and 1940s and to further its preservation. We have 6 general meetings per year that include amazing displays and presentations / programs. Our Whats-It table is always a big hit. The club also hosts a March Glass Show and Sale Event and a Spring / Fall Collectors Market each year. Our members can participate in an annual weekend antique shopping spree. The club owns a massive amount of books for members use to research there newly found glass pieces many of which can no-longer be found in any Library.