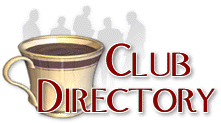 This directory lists over 2300 clubs related to Antiques and Collectibles
Click here to register your club -- Its FREE!
Find a club by name, starting with the letter:
A B C D E F G H I J K L M N O P Q R S T U V W X Y Z Other


Aladdin Knights of the Mystic Light
Publications: Mystic Light of the Aladdin Knights
Contact: J.W. Courter
3935 Kelley Rd.
Kevil, KY 42053 US
Phone: 270-488-2116
Fax: 270-488-2019
Website

Welcome to the Aladdin Knights Home Page, dedicated to the collectors of antique coal-oil and electric Aladdin lamps! With a mix of rural American history and modern technology we bring the passion of thousands into the reach of millions. These pages serve to educate, illuminate, and entertain everyone and anyone who has even the slightest curiosity about one of the greatest and most beautiful series of lamps ever produced—the last non-pressure, incandescent kerosene lamp made in the world! Each lamp is capable of 50 candle power and 2000 BTU of heat. We celebrate 100 years of Aladdin lamps beginning September 25, 2007. So feel free to look around at the many things these pages have to offer. Over time this site will grow and mature, so visit us often, but above all enjoy!