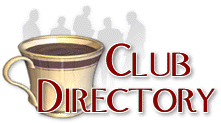 This directory lists over 2300 clubs related to Antiques and Collectibles
Click here to register your club -- Its FREE!
Find a club by name, starting with the letter:
A B C D E F G H I J K L M N O P Q R S T U V W X Y Z Other


Early American Coppers
Publications: Newsletter: Penny-Wise
Contact: Rod Burress
P.O. Box 15782
Cincinnati, OH 45215 US
Website

Early American Coppers (EAC) is a not-for-profit numismatic specialty organization founded in 1967 to serve as a point of contact for collectors of early U.S. copper coins - Colonials, Half Cents, Large Cents, and Hard Time Tokens. Today EAC comprises over 1,200 members located throughout the United States. EAC members are deeply interested in the historical background, attribution, grading, rarity, and related aspects of the early coppers, as well as collecting and trading. Many EAC members are highly knowledgeable and prolific contributors to the numismatic literature of this country.