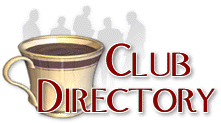 This directory lists over 2300 clubs related to Antiques and Collectibles
Click here to register your club -- Its FREE!
Find a club by name, starting with the letter:
A B C D E F G H I J K L M N O P Q R S T U V W X Y Z Other


C.A.L. / N-X-211 Collector's Society
Publications: Newletter
Contact: David Zuern
913 Wylde Oak Drive
Oshkosh, WI 54904 US
Website

The C.A.L./N-X-211 COLLECTORS SOCIETY is a group of people of all ages, who admire the accomplishment of the MAN and the MACHINE. They collect the treasured pieces of the historical memorabilia that help to memorialize the event and, in so doing, help to "Perpetuate the memory of the Man and the Machine". Our goal is to help renew interest in this event with current and up-coming generations and keep fiction from becoming fact and fact from becoming fiction.