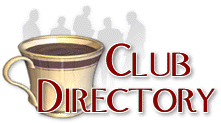 This directory lists over 2300 clubs related to Antiques and Collectibles
Click here to register your club -- Its FREE!
Find a club by name, starting with the letter:
A B C D E F G H I J K L M N O P Q R S T U V W X Y Z Other


The Fenton Art Glass Collectors of America
Publications: Butterfly Net
Contact: Debbie Nielsen
Butterfly Net Newsletter
PO Box 384
Williamstown, WV 26187 US
Phone: 304 375-6196
Website

The Fenton Art Glass Collectors of America, Inc. is an association dedicated to learning more about Fenton glass. It is neither controlled nor sponsored by the Fenton Art Glass Company. The office of this non-profit, educational collectors' club is located in Williamstown, West Virginia. The FAGCA is run by a Board of Trustees elected by its membership.