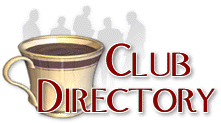 This directory lists over 2300 clubs related to Antiques and Collectibles
Click here to register your club -- Its FREE!
Find a club by name, starting with the letter:
A B C D E F G H I J K L M N O P Q R S T U V W X Y Z Other


A.C. Gilbert Heritage Society
Contact: Jay Smith
1440 Whalley Ave.
PMB 252
New Haven, CT 00205 CI
Website

Welcome to the home of the A. C. Gilbert Heritage SocietyTM. The A. C. Gilbert Heritage SocietyTM is a group of collectors who focus on products produced by and information about the former A.C. GilbertTM Company. These include Erector sets, chemistry sets, microscopes, American Flyer trains and many others.

The goal of the ACGHSTM is to:

1. Showcase and celebrate the works of A.C.GilbertTM
2. Promote the Heritage Society by educating the public and by showing the works of our members.