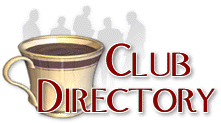 This directory lists over 2300 clubs related to Antiques and Collectibles
Click here to register your club -- Its FREE!
Find a club by name, starting with the letter:
A B C D E F G H I J K L M N O P Q R S T U V W X Y Z Other


The Hat Pin Society of Great Britain
Contact: Membership
PO Box 809
Horsham, RH12 9EA GB
Website

Following an auction of several hundred pins by Phillips in November 1980, The Hat Pin Society of Great Britain was launched.

The Society attracts Membership from all over the world

Twice yearly meetings are held at places of interest up and down the U.K so that as many Members as possible can attend, meet up, become friends and enjoy themselves.

The meetings feature speakers on subjects that are of great interest to the Members, enabling them to widen their knowledge and benefit from the expertise of other fellow members about this absorbing hobby that grips us all. At these meetings, dealers and Members offer pins, stands and holders for sale.