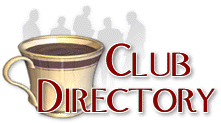 This directory lists over 2300 clubs related to Antiques and Collectibles
Click here to register your club -- Its FREE!
Find a club by name, starting with the letter:
A B C D E F G H I J K L M N O P Q R S T U V W X Y Z Other


Jersey Shore Bottle Club
Contact: Jersey Shore Bottle Club
PO Box 995
Toms River, NJ 08754-0649 US
Website

TO PROMOTE, FOSTER AND ENCOURAGE THE ACQUISITIONS AND EXCHANGE OF INFORMATION RELATING TO BOTTLE COLLECTING. Serving: MONMOUTH and OCEAN COUNTIES ON THE JERSEY SHORE IN NEW JERSEY. Meetings: Every second Wednesday of each month (except July and August) at 7:30 p.m. at The First Methodist Church Hall, 7th Ave., & D St., Belmar, N.J.