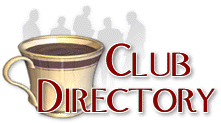 This directory lists over 2300 clubs related to Antiques and Collectibles
Click here to register your club -- Its FREE!
Find a club by name, starting with the letter:
A B C D E F G H I J K L M N O P Q R S T U V W X Y Z Other


Kennedy Political Items Collectors
Contact: Peter Maio
PO Box 922
Clark, NJ 7066 US
Phone: (732) 382-4652
Website

Background: The KPIC is now approaching its thirty-third year of service to Kennedy collectors around the world. Membership currently extends across the U.S. and Canada to England, Europe, even as far away as Australia. In addition to our bi-monthly Hyannisporter newsletter, we offer two auction catalogs per year (spring and fall), contact with other Kennedy collectors all over the world, and the opportunity to actively participate in your hobby among people with the same special interests. The newsletter offers history, trivia, collector information, Kennedy-related auction and market prices, newly discovered and unlisted materials, and more.



Kennedy Publications: Five Kennedy reference books have been published, the recognized standards throughout the political Americana hobby: The Campaign Items of John F. Kennedy, JFK Book II, The Campaign Items of Robert F. Kennedy, The RFK Supplement, and Kennedy Ribbons. Each has identifying code numbers, descriptions, and price guides to help collectors. The original Books are out of print at this time, but all of the Kennedy books are now available on CD-ROM. We are exploring the possibility of having hard copies made if there is sufficient interest. A reference for the campaign items of Senator Edward M. Kennedy is now in the works, with a reference on Kennedy fakes & reproductions in the planning stage. A future book on non-political Kennedy memorabilia being considered as well.