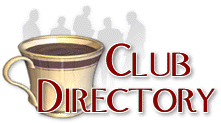 This directory lists over 2300 clubs related to Antiques and Collectibles
Click here to register your club -- Its FREE!
Find a club by name, starting with the letter:
A B C D E F G H I J K L M N O P Q R S T U V W X Y Z Other


Lilliput Lane Collectors' Club

Contact: Lilliput Lane Collectors' Club
7550 Tranmere Drive
Mississauga, ON L5S 1S6 CA
Phone: 1-800-582-0338
Fax: 905-673-5549
Website

Founded in 1986, the Lilliput Lane Collectors' Club has welcomed thousands of members from all around the world and from all walks of life.

When people start collecting our cottages, they want to know more about them: how they are made, who makes them, and most important of all, what makes them so special!

We formed the Collectors' Club to provide those answers — and many more — for Lilliput Lane enthusiasts who appreciate the uniqueness, authenticity and superb craftsmanship, which is the trademark of our cottages.

Use the links on the left to find out what awaits you as a Club member, then join online securely (please allow 28 days for delivery of your membership pack).