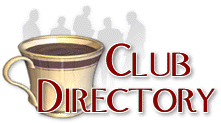 This directory lists over 2300 clubs related to Antiques and Collectibles
Click here to register your club -- Its FREE!
Find a club by name, starting with the letter:
A B C D E F G H I J K L M N O P Q R S T U V W X Y Z Other


U.S. Vintage Model Yacht Group
Contact: Earl Boebert
Website

We're happy to have you aboard! Our organization is made up of enthusiasts for traditional forms of miniature boats that actually sail, including vintage racing classes and traditional sailing craft scale models, such as schooners, skipjacks, and other types.