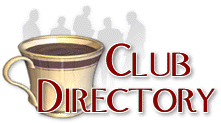 This directory lists over 2300 clubs related to Antiques and Collectibles
Click here to register your club -- Its FREE!
Find a club by name, starting with the letter:
A B C D E F G H I J K L M N O P Q R S T U V W X Y Z Other


48 'n Under Inc
Contact: Webmster
Museum of American Speed
340 Victory Lane
Lincoln, NE 68501 US
Website

The Museum of American Speed is a non-profit corporation founded in 1992 by "Speedy" Bill and Joyce Smith. This 125,000 sqft museum was formed to present a continuous chronology of automotive Racing Engine and Speed Equipment development.... also to preserve, interpret, and display items significant in racing and automotive history. The collection results from the Smith's personal involvement in racing and hot rodding, and their lifelong passion for collecting and preserving racing and automotive history.