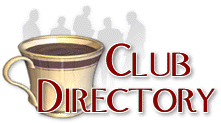 This directory lists over 2300 clubs related to Antiques and Collectibles
Click here to register your club -- Its FREE!
Find a club by name, starting with the letter:
A B C D E F G H I J K L M N O P Q R S T U V W X Y Z Other


Newspaper Collectors' Society of America
Contact: Rick Brown
Box 19134
Lansing, MI 48901 US
Website

In February, 1984, the Newspaper Collectors Society of America was formed and Rick Brown began publishing Collectible Newspapers, a magazine for newspaper collectors. The magazine averaged 24-30 pages per issue and was professionally typeset. Issues were filled with journalism history articles, many of which were researched specifically for Collectible Newspapers. In addition to newspaper collectors, several national institutions subscribed to it. Auctions of historic newspapers were also held by mail and telephone bids. In April, 1997, the last print edition of Collectible Newspapers was produced. The articles in the History Buff Reference Library were originally published in Collectible Newspapers.

A major work produced by Rick Brown and the Newspaper Collectors Society of America was an index of all known newspaper editions printed on wallpaper. In 1933, the head librarian and the New York Public Library was able to come up with a list of 33 known wallpaper editions. In 1991, the NCSA was able to expand this list to 144 editions.

In 1992, the NCSA undertook another major research work. The Library of Congress, American Antiquarian Society, Wisconsin Historical Society, New York Historical Society and Public Libary, as well as many other repositories of historic newspapers, cooperated with the research. With their help, Rick Brown was able to document over 500 different newspaper editions that have been reprinted in the past. Most were produced in the 1800's. The result was a self-published monograph based on my research. It has been referred to as the "Bible" of newspaper reprints and is used by hundreds of institutions and collectors around the country.

Today, the Newspaper Collectors Society hosts bi-monthly online auctions of historic newspapers and other paper collectibles spanning four centuries.