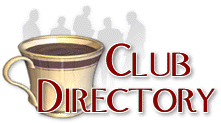 This directory lists over 2300 clubs related to Antiques and Collectibles
Click here to register your club -- Its FREE!
Find a club by name, starting with the letter:
A B C D E F G H I J K L M N O P Q R S T U V W X Y Z Other


Campbell Soup Collector Club
Contact: GLENN FAHEY
Membership Chairperson
06 HILE LANE
ENGLEWOOD, OH 45322 US
Website

JOIN OUR "SOUPER" CLUB TODAY!

Calling all Campbell Soup Memorabilia Collectors!

Become a member today and plan to attend our next convention.

The Executive Board of CCI, Ltd. invite seasoned and new collectors of Campbell memorabilia to join today! Our goals are to promote fellowship, encourage interest in collecting Campbell Soup memorabilia and to preserve its collectibility. We are a "souper" group of collectors who love those famous Kids.