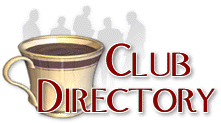 This directory lists over 2300 clubs related to Antiques and Collectibles
Click here to register your club -- Its FREE!
Find a club by name, starting with the letter:
A B C D E F G H I J K L M N O P Q R S T U V W X Y Z Other


The Antique Tribal Art Dealers Association
Contact: Alice Kaufman, Executive Director
PO Box 620278
Woodside, CA 94062 US
Phone: (415) 851-8670
Website

Our highest-priority goals, which are: 1) to encourage the public to educate themselves in the cultures these objects represent and the roles they played within the cultures, and 2) to provide a set of standards for the trade and present ourselves to the public as a trustworthy association of art dealers adhering to the tenets outlined in our bylaws. These can only promote better understanding.