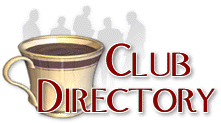 This directory lists over 2300 clubs related to Antiques and Collectibles
Click here to register your club -- Its FREE!
Find a club by name, starting with the letter:
A B C D E F G H I J K L M N O P Q R S T U V W X Y Z Other


The Empire State Bottle Collectors Assocociation
Contact: JOHN SPELLMAN
P.O. Box 61
Savannah, NY 13146 US
Fax: (315) 365-3246
Website

Empire State Bottle Collectors Association's 35th Annual Show & Sale, Sun 9am-3pm at the American Legion Post #1468, 110 Academy Green (just off Rt. 80, Valley Drive), Syracuse, NY.