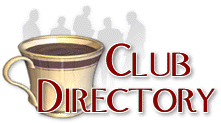 This directory lists over 2300 clubs related to Antiques and Collectibles
Click here to register your club -- Its FREE!
Find a club by name, starting with the letter:
A B C D E F G H I J K L M N O P Q R S T U V W X Y Z Other


The Eva Zeisel Forum (formerly Collectors Club)
Contact: Pat Moore
: 695 Monterey Blvd. #203
San Francisco, CA 94127 US
Phone: 415-587-6725
Website

The Eva Zeisel Forum (formerly the Eva Zeisel Collectors Club) was formed in 1999 by a group of dedicated Zeisel collectors for the purpose of exchanging information between members, conducting research and disseminating information about the work of this remarkable contemporary designer. Eva Zeisel has given her blessing to our efforts, and assists us with background information and identifications from time to time. The current focus of the forum is on writing the first of three planned books cataloging Eva Zeisel's lifetime oeuvres from the 1920's to the present. We formerly published periodic newsletters focusing on Zeisel's most well-known designs; these newsletters are now available as single issues or in a complete set. The topics of the newsletters are available at Membership Benefits.