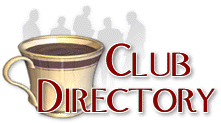 This directory lists over 2300 clubs related to Antiques and Collectibles
Click here to register your club -- Its FREE!
Find a club by name, starting with the letter:
A B C D E F G H I J K L M N O P Q R S T U V W X Y Z Other


Japanese Sword Society of the United States, Inc.
Publications: Newsletter: Japanese Sword Society of U. S. Newsletter
Contact: Japanese Sword Society of the United States, Inc.
Treasurer
P.O. Box 513
Albuquerque, NM 87103-0513 US
Website

The JSSUS is recognized by the IRS as a charitable and educational organization for the appreciation and advanced study of the Japanese art sword and related fields of interest.

Communication within our society is maintained chiefly through correspondence. The JSSUS organization publishes a bimonthly newsletter. This usually consists of about 40 pages of sword study material: pictures and rubbings of specific blades and sword fittings, book reviews, news of sword shows and exhibitions and anything else which might be of interest to our members.

Approximately once a year our publication, Art and the Sword, provides our members with a compilation of research papers and translations of Japanese articles pertaining to all aspects of the sword, fittings and armor.

Other benefits of membership include:

a lending library for books
a lending library for sword-related videos
the opportunity to associate and communicate with many collectors of Japanese swords from around the world.