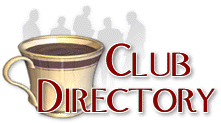 This directory lists over 2300 clubs related to Antiques and Collectibles
Click here to register your club -- Its FREE!
Find a club by name, starting with the letter:
A B C D E F G H I J K L M N O P Q R S T U V W X Y Z Other


League of American Bicyclists
Publications: Magazine: Bicycle USA
Contact: Andy Clark
1612 K Street, NW, Ste. 800
Washington, DC 20006-2850
Phone: 202-822-1333
Fax: 202-822-1334
Website

Bicycle advocacy, bicycle safety promotion, schedules bike events; many antique bike collectors as well as replica builders; newsletter has frequent articles about antique bikes.