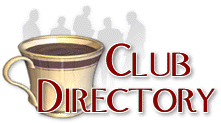 This directory lists over 2300 clubs related to Antiques and Collectibles
Click here to register your club -- Its FREE!
Find a club by name, starting with the letter:
A B C D E F G H I J K L M N O P Q R S T U V W X Y Z Other


Ferguson Club
Publications: Newsletter: Ferguson Club Journal
Contact: Andrew Dobson
Website

The Ferguson Club's aim is to further the appreciation of the engineering feats of Harry Ferguson both in agriculture, flying and motor vehicles, by encouraging members and others to exchange information and share views on the life and achievements of Harry Ferguson.

The Club acts as a forum for information, research and service aspects, both through our Website, our Journal and by direct enquiry. Our publications are produced three times a year, as submitted material allows and are sent free to all members.

While we do not trade in spares we do have, for sale to members, specialist Ferguson Supplies, from Club badges and garments to bonnet strips and decals for the TE-20 tractor and back issues of our publications.