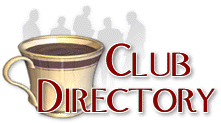 This directory lists over 2300 clubs related to Antiques and Collectibles
Click here to register your club -- Its FREE!
Find a club by name, starting with the letter:
A B C D E F G H I J K L M N O P Q R S T U V W X Y Z Other


Eggcup Collectors' Corner
Contact: Dr Joan M George
67 Stevens Ave
Old Bridge, NJ 8857 US
Phone: (732) 679-6102
Website

If you are a collector these items you are known as a "POCILLOVIST" (pronounced PO-SIL-O-VIST). Pocillovy is the name given to the hobby which comes from the Latin, pocillum ovi, meaning a small cup for an egg.